Looking for a design agency WordPress theme? Nova is a beautifully designed theme with a simplistic and neat look to attract your users easily. In this Elegant Themes Nova review, we'll show its features and help you decide if it is the right theme for your needs.
Contents
About Nova
Features of Nova
Responsive, Secure and Browser Compatible
Simple Menu
Featured Slider
Layout
Footer Section
Color Your Website
Documentation and Support
Our Score
About Nova
Nova is a theme by Elegant Themes, a famous WordPress products marketplace in the web industry.
This theme has a simple design and neat layout. Elegant Themes Nova is not bloated with features. It allows you to easily set up your website online.
Elegant Themes has an amazing epanel for its themes that makes the process more easy for the users to add colors, logo, taglines and more useful content all in one go.
Features of Nova
Like its design, Nova theme has simple features to ensure the website or blog set up should be easy for you. The page is divided into two sections: Content and Sidebar.
The sidebar and footer can be filled with content from the widgets section. Nova has a primary menu where you can add your website's navigation.
It also has a featured slider with multiple variations to load images beautifully. Let's take a detailed look into the features of Nova theme:
Responsive, Secure and Browser Compatible
Nova is a fully responsive theme with simple design that looks attractive on the mobile and other hand-carry devices. The content adjusts automatically and you don't need to edit any additional settings for the mobile display.
The code of the theme is secure and passed through multiple audits that make sure for you to work perfectly with the latest WordPress version.
It is checked and tested on all the popular internet browsers. This theme performs great for the users.
Simple Menu
Nova theme comes with one simple primary menu that will appear in the header next to the logo. The navigation dropdowns are simple too. You can also add multiple dropdowns to navigate your users to different sections of your site.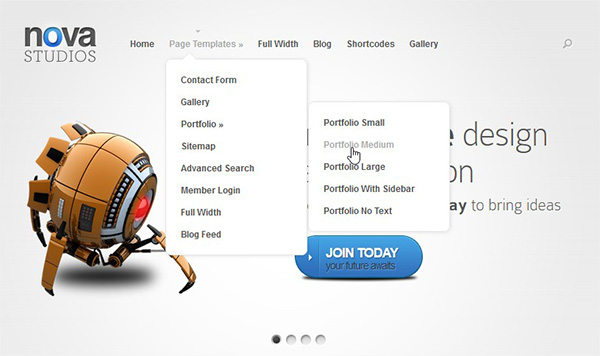 Header will also have a search icon that appears by default, and you need to create your menu such a way that it gives space for the search bar to open.
Featured Slider
Featured slider is an integral part of Nova theme. It comes within the theme options and very easy to set up. Simply go to Settings » Nova Theme Options and you'll find the Featured Slider tab in the General settings.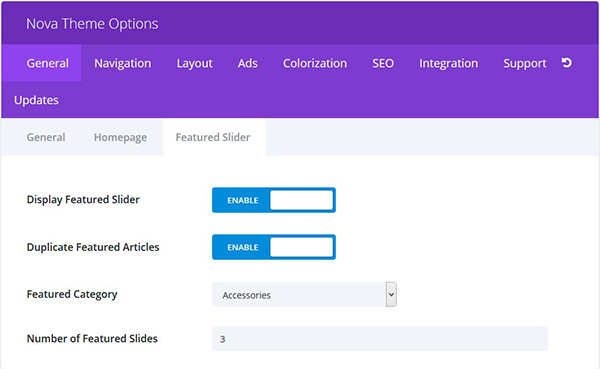 These settings will let you create the slider from your WordPress pages and categories. The other options include slider animation settings.

However, we recommend you to use Soliloquy slider plugin for your image slider requirements. Soliloquy is far easier to use and come with tons of amazing features to let you create an image slider of your needs. You can also add Soliloquy slider on homepage of your website.
Layout
The layout settings are simple. These settings work with the enable and disable option to display or hide the features.
There are three sections: Single Post Layout, Single Page Layout and General Settings.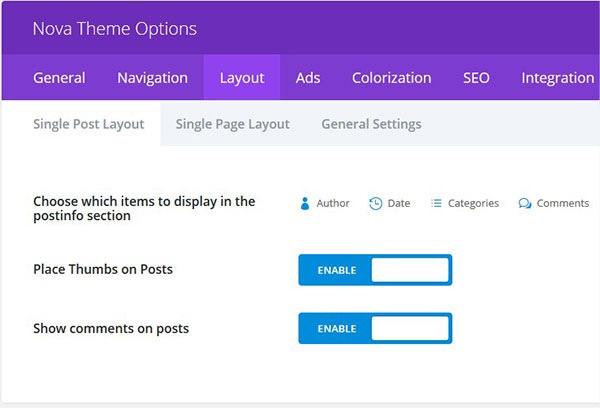 You can display thumbs and comments on posts and pages easily by enabling them. It also allows you to edit the postinfo section settings for the posts.
Nova theme has a footer widget area where you can add up to 4 widgets. It allows you to add more widgets too. But, after the 4 widgets it will break the line and display the other widgets in the next row.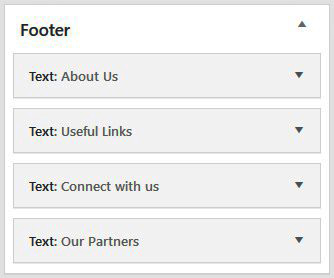 It is recommended to add the useful widgets in the footer and keep it to 4 columns for an amazing display. You can change the widgets anytime from the general WordPress widget options.
Color Your Website
The theme options has a setting for colorizing your website. It's flexible to give you a detailed selection of colors through a color picker tool that creates a hexadecimal code.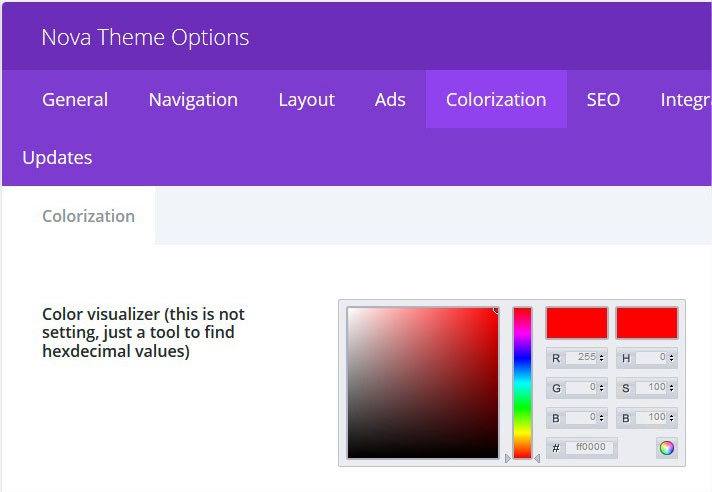 This setting has various options like custom colors, childsheet and more. You can also add the hexadecimal codes in the fields below these settings to change the color of the main font, links, menu links, headings, sidebar, footer and more.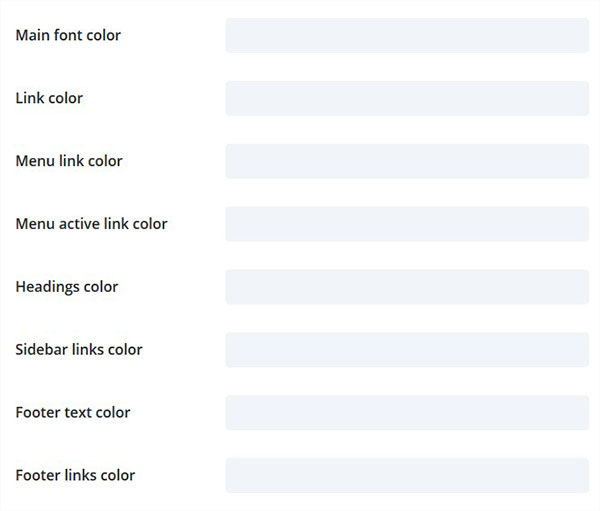 It allows you to change the color settings anytime you need by simply replacing the color values.
Documentation and Support
Elegant Themes Nova has extensive documentation that guides you on installing and configuring the theme. Useful screenshots and videos are also included in the doc, so you can easily skim through the content whenever you need assistance.
To download Nova, you'll need to join the Elegant Themes club. Their plan starts from $89 per year. After joining, you'll get complete access to all themes.
To get lifetime access to all themes and plugins with lifetime premium support, lifetime updates and unlimited website usage, you'll need to pay a one-time fee of $249.
Support is offered through their official support forums. Elegant Themes are well-known for the quality and speed of their support.
Our Score
Nova is an attractive one page theme with its fullwidth design, perfect for your photography or fashion WordPress site. It is packed with tons of great features for you to play around with and get the customization just how you want it to be.
We give Nova 4.6 out of 5 stars. Here's the breakdown of our scores.
Get Nova Now »
If you liked this article, then please consider following us on Twitter and Facebook. If you have any questions, please let us know by leaving a comment below.
Source link